SOLD
FOR SALE
OCEANS ATRIUM, UNIT #902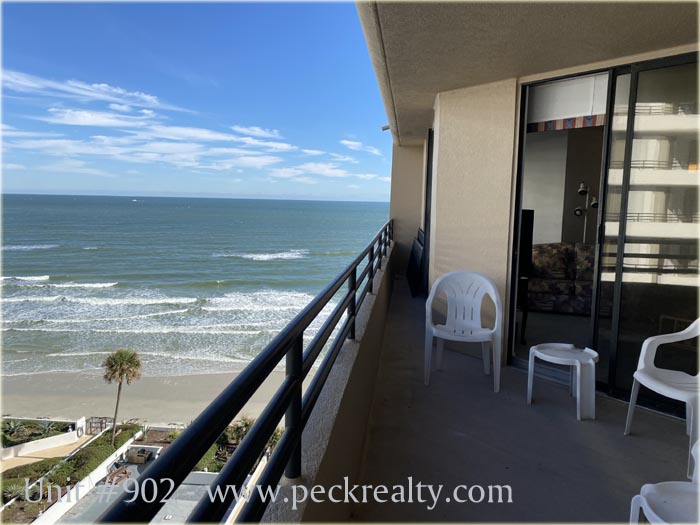 Two Bedroom, Two Bath Unit - $265,000
Fully Furnished with Great Ocean and River Views
Unit features include private balcony with beautiful views, sliding glass doors from living room
and master bedroom to balcony, updated kitchen with newer cabinets and solid surface countertops,
washer/dryer in unit, full master bath with walk-in closet.
Popular direct oceanfront condominium with numerous amenities including
Atrium Lobby with Fountain
Indoor Heated Pool & Oceanfront Pool
Exercise Room, Hot Tub & Clubroom
Underground Reserved Parking and Secure Entrances
Monthly Rental Minimum & Small Pets Welcome
Call Peck Realty for More Details
386.257.5000 | 800.447.3255

---
New Office Hours
Weekdays 10 AM - 4 PM
We are always available by phone and by appointment.
We have an agent on duty 7 days a week.

---
Now Available for Lease
The Sherwin Condominium - 3BR/3BA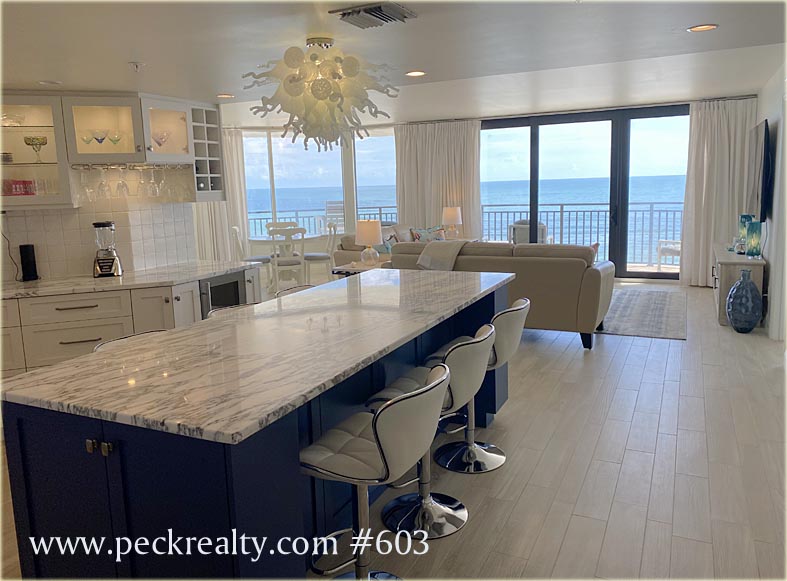 Completely renovated 3BR/3BA direct oceanfront unit now available.
Two oceanfront bedrooms each with King bed and guest room with two queen beds
Large oceanfront balcony, completely renovated kitchen and baths.
Call to make reservations!
Click here to see photos of this fabulous condo!
---
SOLD!
The Peninsula, Unit #507
2BR/2BA South East direct Oceanfront Unit Available Unfurnished
Enjoy beautiful sunrise views over the ocean and beach, relax on your private balcony with sunny Southern exposure, full kitchen with breakfast bar, sliding glass doors to balcony from Master Bedroom & Living Room.
Call to schedule an appointment today!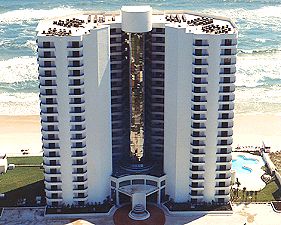 SOLD!
The Ashley, Unit #407
2BR/2BA Spacious South East Corner unit Now Available.
Fully Furnished
Popular building with great design and great views!
Unit features include beautiful tile floors throughout living area, large wrap around balcony with two private balconies, kitchen with access to balcony and breakfast bar, separate laundry room, large master suite with huge walk-in closet, dressing area & full bath, and more!

---
RENTAL SPOTLIGHT
3BR/3BA Direct Oceanfront Unit
Available - Call for Details!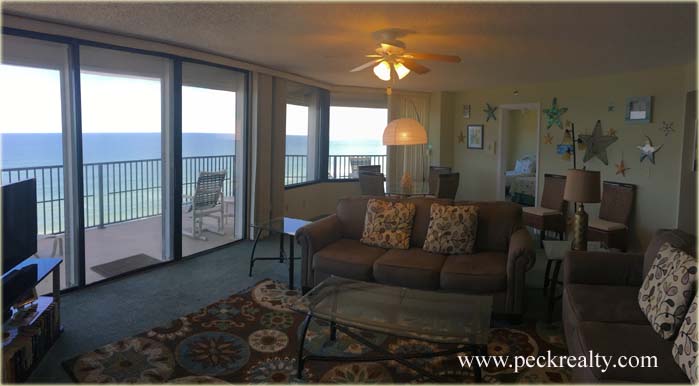 You won't find a better view than from this 3BR/3BA unit on the 18th floor hosting over 1,800 square feet. Featuring great views from every room, fully equipped kitchen, private balcony and over 1,800 square feet. Two week minimum rental required.
Building also offers numerous amenities including oceanfront pool, exercise room, penthouse clubroom, secure garage and more.
Call Ashley Tefft for more details
on this fantastic condominium.
(800) 447-3255 or (386) 257-5000
---


Many of you know us through the rental program either as owners that rent or tenants that lease from us. However, please remember that we have always worked with sellers and buyers in condominium sales and listings.
We are members of the Daytona Beach Board of Realtors and all of our listings are included in the Multiple Listing Service (MLS). There are over 2,000 members in Volusia County. Your condo will be marketed to thousands of licensed realtors in the Daytona Beach area and through out Florida. The listings are also marketed on numerous real estate websites including Realtor.com, Homes.com, Homes and Land, etc.
We are here to assist you whether you are ready to list, buy or lease – we are your full service Condominium Real Estate Agents.
Sales Associates/Realtors
Sherry Davidson | Pat DeMeo | Jackie Miller | Edwin Peck, Jr. | Ashley Tefft
Sherry Peck Davidson - Licensed Real Estate Broker

---
McElroy Park
This park is conveniently located in the heart of Daytona Beach Shores behind the Publix Shopping Center and near the Community Center.
It is popular with many of our residents especially those that have taken up pickleball in recent years. This is quickly becoming a super and fun activity for all ages! Best of all it is within walking distance from many of the condominiums we handle.
Park Amenities Include
Walking/Running Track and Adult Exercise Area
Pickleball and Basketball Courts
Children's Fenced-In Area and Play Ground
Picnic Tables (covered and outside)
Dog walking area

3035 S Peninsula Drive | Daytona Beach Shores, FL 32118
Hours: Sunrise to Sunset
Phone: (386) 763-5353
---


The weather is beautiful here in Daytona and perfect for golfing! Here are a few of the larger golf courses in the area that might be of interest for visitors trying to make vacation plans. The clubs listed are public or semi-private.


Cypress Head, Port Orange (386)756-5449
Debary Golf & Country Club, Debary (386) 668-1705
Deltona Hills Golf Club, Deltona (386) 789-3911
Halifax Plantation Golf Club, Ormond Beach (386) 676-9600
LPGA International, Daytona Beach (386) 274-5742
Indigo Lakes Golf Club, Daytona Beach (386) 254-3607
Pelican Bay Country Club, Daytona Beach (386) 756-0020
Spruce Creek Country Club, Port Orange (386) 756-6114
Tomoka Oaks Golf & Country Club, Ormond Beach (386) 677-7117
Victoria Hills Golf Club, DeLand (386) 738-6000
Call the course directly for details on play. Happy Golfing!!

---